Break The Habit Scholarship
Annual Break The Habit Distracted Driving Scholarship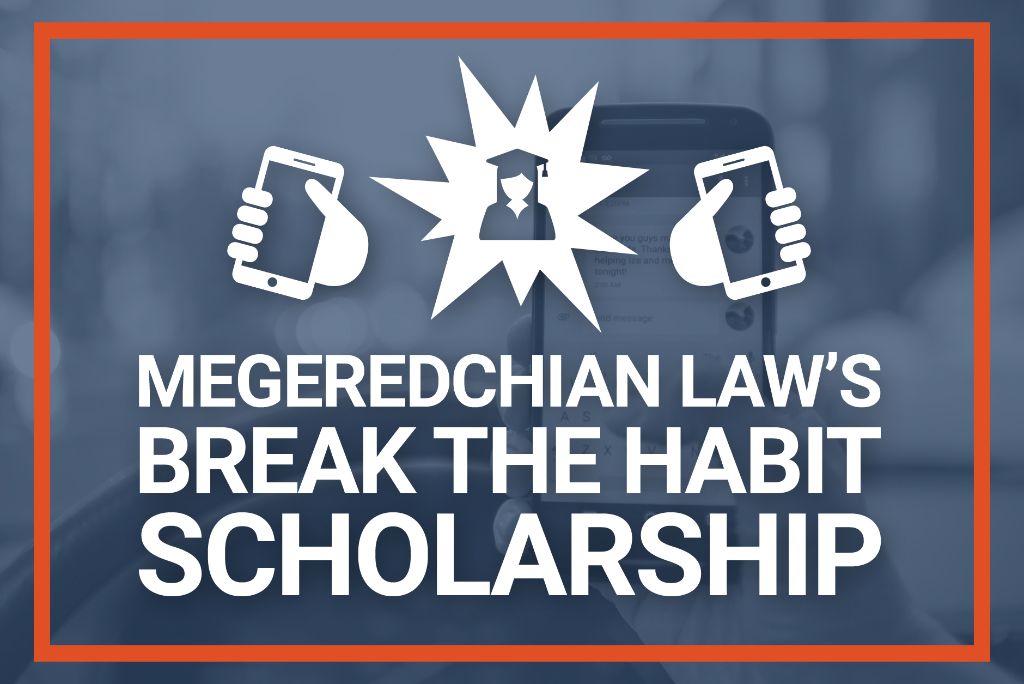 America, we have a problem. Distracted driving is a dangerous epidemic and one that continues to grow each year. In California, 40% of all drivers have admitted to checking their texts or emails while behind the wheel. Furthermore, it's estimated that 80% of all motor vehicle accidents involve some form of driver inattention. Nationwide, up to 3,000 Americans are killed in distracted driving crashes each year. 
Megeredchian Law recognizes that something needs to change. That is why we're offering a $1,000 scholarship for students willing to advocate against the distracted driving epidemic with poems, essays, posters, videos, or images promoting the importance of distraction-free driving. 
Break The Habit Scholarship Overview
The Break The Habit Distracted Driving Scholarship is a $1,000 annual scholarship meant to promote discussion and reflection on the dangers surrounding distracted driving and driving habits. Students are encouraged to reflect on why they've given into distraction or why others around them have succumbed to distraction and create a piece advocating against such an act. Submissions can be in the following forms: 
Written (like an essay or poem)
Video, animation, or other multimedia format
A photo or graphic
Do you have a message against distracted driving to spread? Communicate that message in one of the formats listed above and Megeredchian Law will help you spread your message. Please note, media submissions should not contain the following: 
Gruesome or identifiable car crashes
Branding from any automakers 
Eligibility & Requirements
US citizens entering or attending an accredited university or law school in the United States as a full-time student are eligible to apply. Applicants must maintain a GPA of 3.0 or above. In addition to an essay submission, applicants must also complete the scholarship application form. The following materials must be submitted to lawofficeofalexmegeredchian@gmail.com by August 31st.
A completed scholarship application form
A media piece (essay, poem, photo, illustration, video, animation, etc.) advocating against distracted driving
A certified copy of the student's transcript
An acceptance letter from an accredited university (if the student is an incoming freshman) 
Award
The recipient of the Break The Habit scholarship will receive $1,000 to be used only for university or law school tuition and related educational expenses. 
The $1,000 check will be made payable to the recipient's school. 
The application period will end August 31st. The award recipient will be notified of selection by September 30th. 
By accepting the scholarship, the recipient agrees to allow Megeredchian Law the right to use the content of the submission, the recipient's name, the name of the university or law school, and/or pictures of any of the above on the firm's website and other marketing materials. 
Scholarship Deadline
Again, all completed scholarship materials should be emailed to lawofficeofalexmegeredchian@gmail.com no later than August 31st to be considered for selection