Have you been involved in an accident on the new 6th Street Viaduct?
Contact our car accident attorneys today to see how you can get compensation for your injuries and hold the at fault party responsible. You should not have to suffer alone if there was another party that caused your injuries.
15,000 people from Los Angeles gathered together on July 10, 2022 to celebrate the opening of the Sixth Street Viaduct. The Sixth Street Viaduct is a new bridge that was recently built that connects downtown Los Angeles to the east side. Bicyclists, motorcyclists, pedestrians, and skaters all gathered together on Sunday to commemorate the first day of the Sixth Street Viaduct operation.
The viaduct was under construction for around six years, and has a very historic past, serving as a Los Angeles landmark. The Bridge cost 588 million dollars to build, and connects the city of Boyle Heights to downtown Los Angeles. The bridge also goes across the Los Angeles River. The bridges open to pedestrians, cyclists, along with other vehicles. Although this is one of the most important historic moments in the city of Los Angeles, accidents are still bound to happen. If you have been involved in an accident on the 6th Street Viaduct, contact our accident attorneys to see how we can help you. Our top-rated attorneys have decades of experience representing victims who have been injured in an accident caused by another party.
The viaduct has around 10 arches, and is considered to be the "ribbon of light" since there were several thousands of colorful light bulbs constructed on the bridge. Many consider this a historic landmark similar to the Hollywood sign. The bridge is around 3,500 feet long, and has ramps for bicycles and walkways for pedestrians. However, on the day of the opening there were a couple people who had wondered whether the ramps for bicyclists were safe enough. Many believed that the bicyclists still did not have a strong safety barrier. For example, the line was considered to be problematic since there was no cement barrier, instead it was a temporary line drawn on the floor. According to viewers who attended the opening, a car had already driven into the bicycle lane, and the rubber barriers were not enough.
Many viewers who attended the opening of the Bridge Viaduct even started tearing up as they explained what a historic moment this was. This bridge will hopefully be around for hundreds of years, and many were there to celebrate the past history of Los Angeles. Some had even dressed in historic Aztec clothing to remind those who attended the opening who the original people of Los Angeles were.
On July 24th, 2022, just two weeks after the opening of The Bridge, Police had closed the bridge for illegal activity that occurred. It was also closed the day before on July 23rd from a car accident that occurred involving a pickup truck and another vehicle who had unlawfully stopped at a no-parking zone. Unfortunately, this is just the beginning of accidents like these. Many police officers have reported that almost every night, there have been spin-outs or burnouts done on the bridge. Several different groups are also attempting to take over the bridge for the night and get it to shut down. The bridge has been closed multiple times to this date for safety concerns.
Many Los Angeles City officials are now calling for speed bumps since several drivers on the bridge are now speeding. There will also be a center median installed, along with fences around the vehicle lanes to make sure that pedestrians and bicyclists are safe. A city councilman has also proposed that the city add cameras to the viaduct simply to maintain safety and monitor accidents. Video surveillance is very important when it comes to gathering evidence about a car accident. Video surveillance helps attorneys determine who is at fault in the accident and strengthen your claim for negligence against the other party.
Over the last four days from the bridge opening, the police department issued around 57 traffic tickets for drivers on the bridge. This has posed a huge safety problem for those in the Boyle Heights and downtown Los Angeles area. Chief of Los Angeles police has urged the public to constantly be on the lookout while on the bridge, and make sure to engage in safe driving practices since any potential accident on the bridge could result in severe injuries.
The structure was originally opened in 1932, and has appeared in several well-known movies such as Grease and Terminator 2. However, around thirty years later, the bridge was falling apart and needed to be repaired as soon as possible. The bridge was then closed, until the city approved construction to rebuild the bridge. The bridge was completely torn down in 2016. Although this is a Historic Landmark, it has paved the way for a new set of accidents that could occur. As several thousands of people flock to the bridge to get their 15 minutes of fame, several victims are bound to be injured and deal with permanent lifelong injuries. If you have suffered any type of injury on this bridge, contact our Los Angeles car accident attorneys today. We have recovered hundreds of millions of dollars for our clients, and are not afraid of a challenge when it comes to negotiating and dealing with defendants and insurance companies.
Since the bridge just opened, many are engaging in illegal activity on the bridge simply to get their fifteen minutes of fame. The bridge is being covered daily on several news sites and social media platforms, which then encouraged several to flock to the bridge to do something crazy and to get attention. For example, many have now resorted to climbing onto the bridge, or even having demonstrations on the bridge simply to have it posted about on social media. Several hundreds of people have tried to take over the bridge simply for bragging purposes, or have even made it the destination to sit and smoke weed with friends.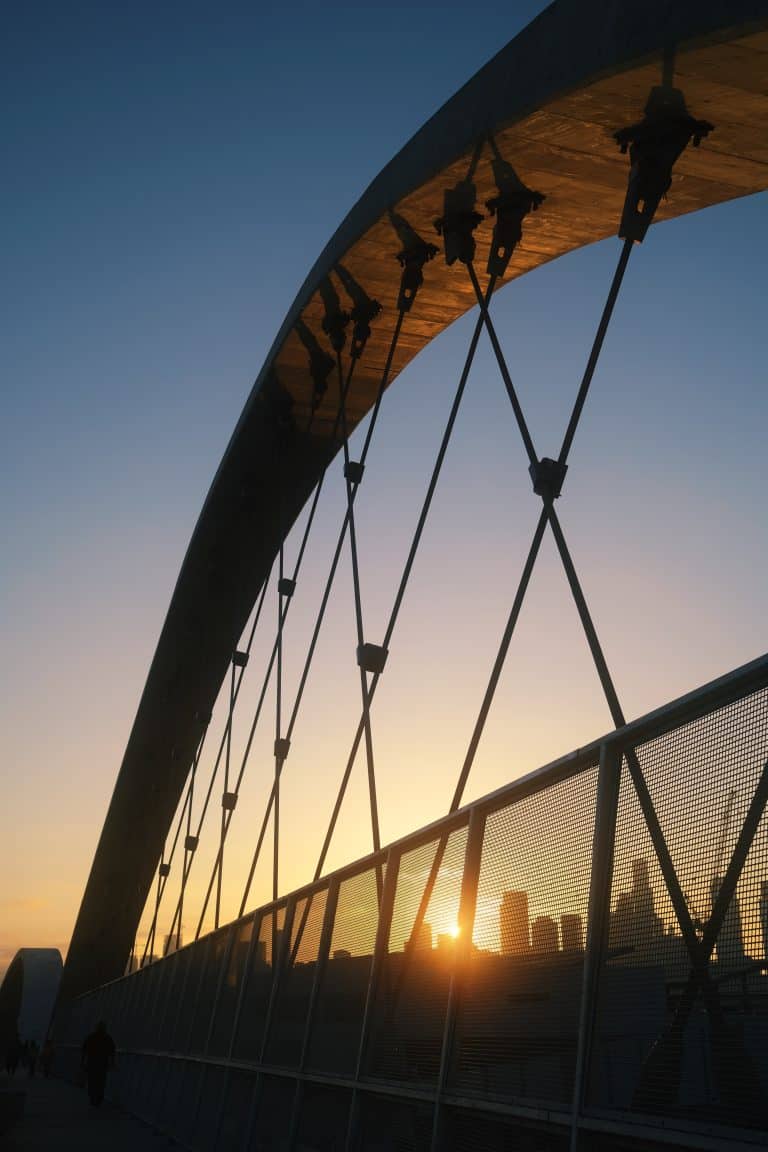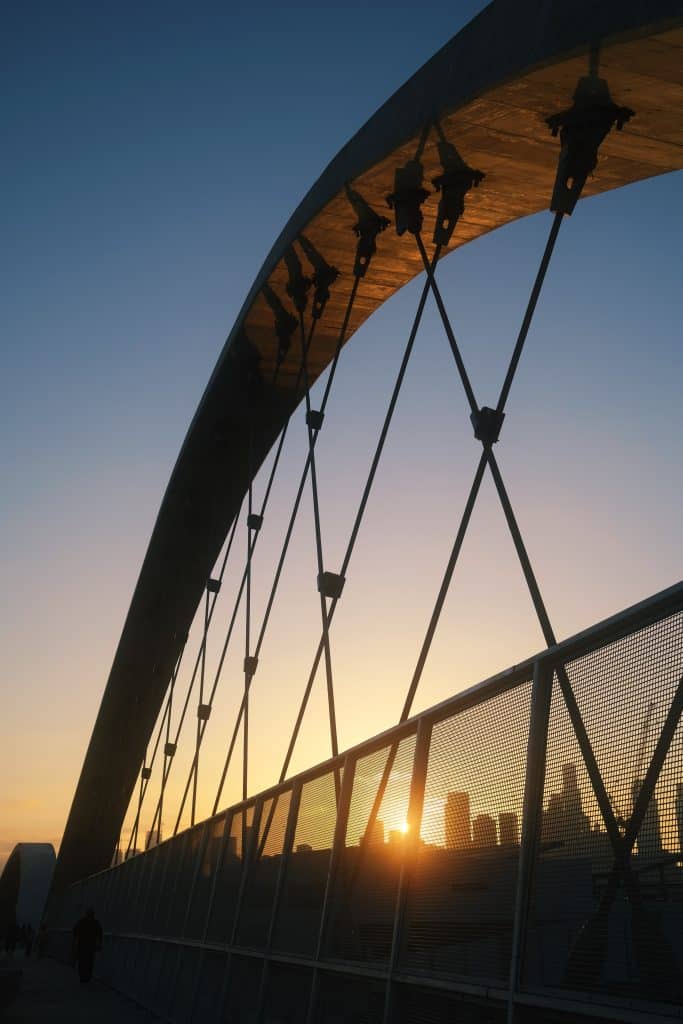 What type of evidence will help me in a car accident case?
Different types of evidence may strengthen your case in an accident on the Sixth Street Viaduct, including:
Surveillance footage
Eyewitnesses
Property damage
Photos of the accident scene
Photos of the skid marks
How much do our accident attorneys cost?
Our car accident attorneys at Megeredchian law work on a contingency basis, and do not collect a single dollar from our clients until we win money in your favor. This means that we will work tirelessly for Los Angeles clients and make sure that they get the compensation and justice they deserve.
 Have you been injured or involved in an accident on the 6th Street viaduct in Los Angeles?
If you have been involved in any accident, whether it is a car accident, bicycle accident, pedestrian accident, or motorcycle accident, our attorneys are on standby and ready to help you every step of the way. Los Angeles is our home, and we have decades of experience representing victims who have been injured in Los Angeles. We have several offices located in Los Angeles County, and are available via phone and / or email.