Trucks And Blind Spot Accidents
Unfortunately, with the increase of trucks on the road in the state of California, accidents are also very common. One of the major reasons why Truck Accidents could occur on major highways and freeways is because of the truck blind spots. No matter what type of truck or manufacturing company that has manufactured the trucks, a truck's design still has blind spots.
Truck blind spot accidents could lead to very severe collisions and injuries.
According to the National Highway Traffic and Safety Administration, there are around 800,000 accidents caused by a truck's blind spot in the United States each year. Because of this, there are around 400 deaths that result from these accidents. These numbers are astonishing, especially because almost all these accidents could be prevented.
One of the most important lessons that the commercial driver's license training teaches drivers are blind spots and how to maneuver through them. One of the requirements for getting a commercial driver's license is to constantly check blind spots and make sure that there are no approaching vehicles near the blind spots. But, despite all the training, blind spot accidents are still bound to happen.
Similar to a regular sized vehicle, a truck also has blind spots. But a truck's blind spots are more dangerous than a regular sized sedan's blind spots. Blind spots are also known as "no zones" in commercial trucks. Reasons for several blind spots are because of the large size of the truck, and the difficulty in maneuvering the truck. That is why truck drivers have to receive personalized training and practice prior to getting on the road. A simple wrong move could result in severe injuries and fatalities.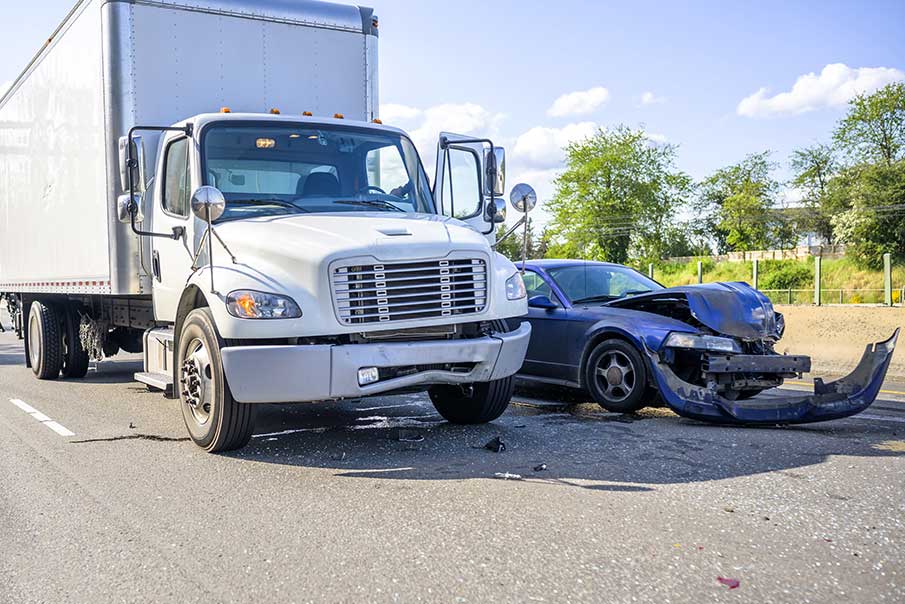 A truck driver has a duty to drive in a reasonably safe manner, not only for himself, but also for other vehicles around him. Driving in a reasonably safe manner could prevent any accidents. One of the responsibilities involved with this duty is to make sure that they check their blind spots at all times, and to make sure that there is a safe space between the truck and other vehicles. When a truck driver fails to take such precautions, they could be held responsible and negligent for any accidents that they may cause.
How To Prove That A Truck Driver Was Responsible For A Blind Spot Accident
You must show specific elements when involved in an accident with a truck driver. In order to hold the truck driver responsible for your injuries, you must show:
The truck driver had a duty to drive in a reasonably safe manner.
The truck driver breached that duty.
The truck driver then caused the accident.
The victim now suffers severe injuries from the accident.
Our experienced truck accident attorneys will evaluate all of the necessary elements and will gather all the records needed to prove that the victim suffered injuries.
Could a Truck Driving Company Be Held Responsible For My Accident?
In certain circumstances, a Trucking Company could also be held responsible for any injuries caused by a truck accident. For example, if the trucking company negligently trained their employees, and the truck driver was an employee and was acting within their employment at the time of the accident, the truck driving company could be held responsible under a negligent hiring lawsuit.
Where Are a Truck's Blind Spots?
A car that is driving next to a truck should assume that the truck has blind spots all over. It could be very difficult to drive and maneuver a truck, especially during high traffic times on busy freeways in Los Angeles. Some examples of where a truck has blind spots may include:
The rear of the truck. Usually, truck drivers may not be able to see immediately behind them for a couple feet.
Directly in front of the truck. When a truck is not so high above, a blind spot could be found immediately in front of it.
Side mirror next to the driver. This is one of the most common blind spots found on almost every single type of truck, such as a tractor or a trailer.
Side mirror next to the passenger side. This is also a common blind spot, and difficult to see, especially because it may be the farthest from the driver.
Who Is At Fault In a Truck Blind Spot Accident?
Usually, the driver of the truck is at fault in an accident caused by a truck's blind-spot. The victim of the accident will be the car that the truck collided with. In certain circumstances, a truck manufacturer and retailer may also be held responsible if the truck's blind spot was considered a defective part. For example, if a side mirror was defectively designed to create a blind spot, then the manufacturer could be held responsible under a product liability lawsuit.
Why Hire a Blind Spot Truck Accident Attorney?
Although it may seem pretty clear cut that a truck driver is responsible for an accident caused by his blind spots, it could be sometimes difficult to deal with insurance companies when filing a claim. When you file a claim for injuries with your insurance company or the truck driver's car insurance company, insurance adjusters may try to offer different causes and reasons for the accident. For example, insurance adjusters may decline looking at key pieces of evidence. Instead, the insurance company may say that you are responsible since you were driving within the truck's blind-spot areas, and you instead should have slowed down to get out of the blind spot area.
It takes an experienced bus accident attorney to represent a bus accident victim, and make sure that all injuries and damages have been compensated for. Experienced bus accident lawyers will negotiate and communicate with the insurance company and the adjuster to make sure that all evidence is provided to the insurance adjuster, and the adjuster reviews all key pieces of evidence.
How Can I Avoid a Blind Spot Accident?
There are some steps you can take to make sure that you avoid getting into a truck's blind spot and getting involved in an accident.
You must make sure that you leave enough space between your vehicle and the truck. Usually, there should be at least space for two vehicles behind a truck and your vehicle. The National Highway Traffic and Safety Administration suggests that if you do not see the truck driver's face, you most likely are located within a truck's blind spot, and you should move to a safe space immediately. Make sure you do not cruise or stay behind any truck's blind spot for a long time.
Call Our Blind Spot Truck Accident Attorneys Today
If you or a loved one have been injured in any truck accident because of the truck's blind spots, call our Megeredchian Lawyers today for more information on how you could recover monetary damages. Our attorneys will immediately answer any calls or emails to schedule a free case evaluation to discuss your potential truck accident claim. We have recovered millions of dollars for our clients, and we'll make sure that our clients get the help they deserve. Call us today or contact us through our website.